OliveWigs Wig Head Stand
$5.99
Regular price
$8.56
off
The Wig Stand is a must-have for any wig wearer. It's foldable and collapsible so it's great for travel. A wig head stand is a perfect place to keep your wig when you are not wearing it or for drying purposes, after washing. Wig headstands are essential if you wear wigs because, in addition to keeping your wig dry, they also help maintain the style. Storing wigs in the original box is not recommended, especially for longer wigs, as this can cause creasing in the hair. Wig stands are also a good replacement for bulkier, heavier wig heads. The new, improved wig stand design will help keep your wig looking beautiful!
Specifications:
Brand Name: Olive Wigs
Product Type: Wig Stand
Hair Type: Artificial Plastic
Color: Pink, Black, Blue, White
Size(Length*Width): 14.2*7.1 Inch
Product Weight: 3.5 oz
SPECIAL FEATURES
Folding Design - Portable sections, easily snap together and come apart, making traveling with your wig a breeze.
EXPERT TIPS & STYLING IDEAS
Use a Folding Wig Stand When Drying - Placing a wet or damp wig on a mannequin head or canvas block will stretch or misshapen your wig cap.
How To INSTALL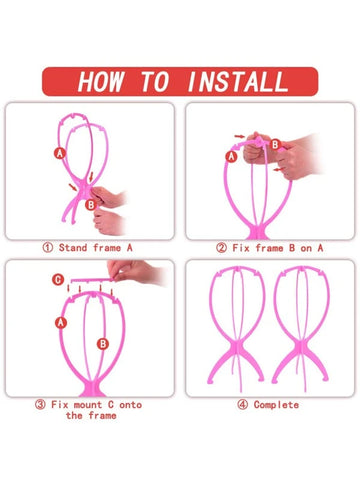 OliveWigs Wig Head Stand
$5.99 USD
Regular price
$8.56 USD
FAQ
How do I contact customer service and when can I expect a response?
For any customer service needs, just drop us an email at service@olivewigs.com. Our team is available Monday to Friday from 8am to 5pm PST and will get back to you within 48 hours. Please note that response times may be longer during holidays and weekends. To help us better assist you, please avoid sending multiple emails.
How do I know if my order went through?
If you placed an order and want to confirm that it went through, you can try the following:
1. Check your email for an order confirmation or receipt.
2. If you have an account with the store, you may be able to view your order history and see if the order is listed.
3. If you haven't received your order confirmation email after 24 hours, please contact our customer service team at service@olivewigs.com. Order confirmation emails may be delayed due to high volume.
Can I change my order after it's been placed?
All sales are final and orders cannot be cancelled, changed, or modified after they have been placed. Please double-check all information before submitting your order.
I recieved my order but it's damanged or not my size. What should I do?
For assistance with a damaged product or other issues with your order, please contact our customer service team at service@olivewigs.com within 14 days of receiving the package. Include photos of the issue and your packing slip with visible stamped initials. Requests received after 14 days will not be eligible for review. Orders shipped using a mail forwarding service are not eligible for replacements, exchanges, or refunds.
Shipping
Free Worldwide shipping
Free Shipping on orders over $60.